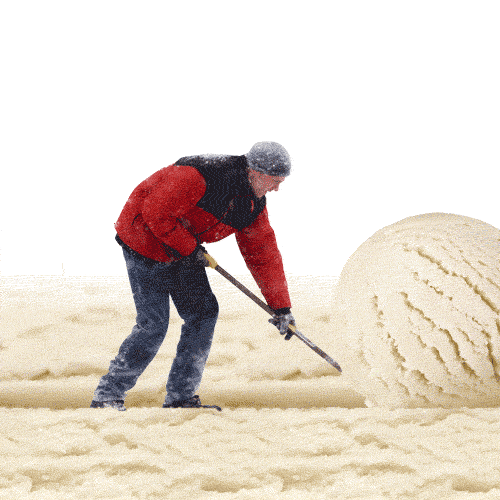 So now , time for my outsource vendor ! Due to cutting of budget , we forgo the idea of having a live station of those awesome goreng pisang , keledek , wedges and etc  but instead we paid my caterer additional $150 just to have Goreng Pisang and it starts at 2pm . Maybe if you guys are having the same thoughts  , can ask from your individual caterer if they could provide such service.And if you are looking for one , here's the contact  De'Riya Services . Last I asked for a live station is $700 for 1000pax .
In the end , I settled for an ice cream vendor . Not the typical Apek ice -cream that comes to your place and scoop the ice cream for you . The one I took was from Evergreen Ice Cream . I decided to have the ones that my guests was willing to choose their choices from  . Senang kata , Free Flow lah . Nobody was mending the fridge . Evergreen is so much affordable to the rest of brands I ask . Below was my ice cream order for 700 plus pieces of ice cream . There's the cup ones , stick ones and the potong ice cream type ones .
700 pieces of ice cream plus fridge with delivery and collection only below $400 . Good deal right.Plus with Evergreen , if your order is above $250 , the fridge to put your ice cream in is totally FREE ! But because  my majlis ended at 6pm , we told them to collect it back at 7pm . Timing after 5pm will be imposed a $20 surcharge ok just like us  .
I'm so happy that I took this leap of faith because dealing with Evergreen was also smooth. The admins that liase with me thru the phone and email is so patient and well knowledge.Keep reminding me to book  ASAP as she's scared that my dates would be full .
Their pricelist and flavours are available here Here . Order can also be made over at the website . They would need half of the deposit first and on the day of delivery, you just pay the rest . All you ever need is to prepare a power point socket for the plug and a condusive area for your guests to reach out for the ice cream . Always allow them to deliver few hours earlier before your majlis start . Mine was at 9am . Enough time to check if the plug line is workable or not .
Research after research , not only Evergreen suited my budget . There was also Cremo and Nestle that can be found Here . And if you guys have a slighter bigger budget , go for Magnolia and Marigold which can be ordered  Here but unlike Evergreen their minum purchase for the free fridge rental is slightly higher . Kind of slip my mind . Just get your cousins to rope in to be the one to scoop those ice cream and its all done or best still , FREE FLOW BEBEH !!!!!!!! 
Thank you to my Tante and family for sponsoring me the Ice Cream . Initially , I had paid the deposit but few days before the wedding , she handed me the full amount insisting that her family will be paying for it . Rezeki jangan ditolak kan . 
Your guests will thank you for those ice cream , I'm sure of it . Hot weather mahh ..
So now Pakcik Van turn . Since ours was a bertandang event , I don' wish to trouble my orang2 kuat to figure out if that day their family car is available ke tidak . So I got this contact from my mother which I then distributed it to my close friends in case they need a transportation to the airport or whatever not to a long distance journey but in a group lah  . If not , Grabtaxi berlambak .
So on my wedding day , me and A was already in one car with his bestman and wife . We could not fit another person at the back so my Mak Andam had to take the same car with my photographer and videographer .
I had 7 of my orang kuat on that day , so Pakcik Van save the day .All7 of them could fit in it .  FOR ONLY $25 PER TRIP , HE SEND THEM TO AND FRO . First from CCK TO JURONG , then to JURONG TO CCK . His van is the white covered , 10 seater van . And yes , he is very punctual . Just give him a call , tell him your specific date and he will check his schedule.
The one that liase with me on the phone was a Pakcik , sekali on my Wedding Day . The one driving was a female . Maybe wife dia kot …  Okay moga bermanfaat ..xx
Transport Service – 84588184